.
.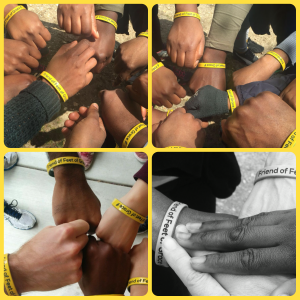 Inspire Hope
Irene uses her testimony of God's amazing grace that sustained her through twenty years of living with chronic and debilitating disease, which eventually resulted in a lungs transplantation and the amputation of her two legs, as template to inspire hope and encourage those facing life's challenging situations to hold on and not give up.
Giving up on living life to the full is not an option even with a loss of limbs at any age. But yet many have lost this hope because of limited opportunities available for a productive life with disabilities in their communities.
Feet of Grace Foundation will bring messages of hope and encouragement to people living with amputated limbs and their families. The foundation will also create awareness and advocate for friendly environment for people living with disabilities.
Enriching Lives: That they may stand and walk
Feet of Grace Foundation organises fund-raising activities. In partnership with other NGOs, Feet of Grace Foundation will facilitate the provision of: Prosthetic limbs, Wheelchairs and Vehicles for transporting handicaps (Wheelchair transport services). Feet of Grace Foundation will also work with appropriate bodies to facilitate the provision of post-fitting care and physiotherapy for new amputees and formation of support groups. Such fundraising events will include but not exclusive of the following:
Annual Charity Walk/Run: "Hit the Street for Their Feet" is an annual charity walk/run organized by the Feet of Grace Foundation and holds in April every year. Irene, her family and friends of Feet of Grace Foundation,will walk/run a specified number of kilometres, inviting friends, donors and general public to donate per kilometre walked or sponsor an aspect of the event. The funds donated will be used to provide a prosthetic limb for an already identified recipient.
Annual Dine-For-A-Leg: Friends and supporters of Feet of Grace Foundation will be invited to a fund-raising dinner in October. Proceeds from the ticket sales and auctions will go towards funding the activities of the Foundation.