Ten Years Beyond Lung Transplantation and Bilateral Amputation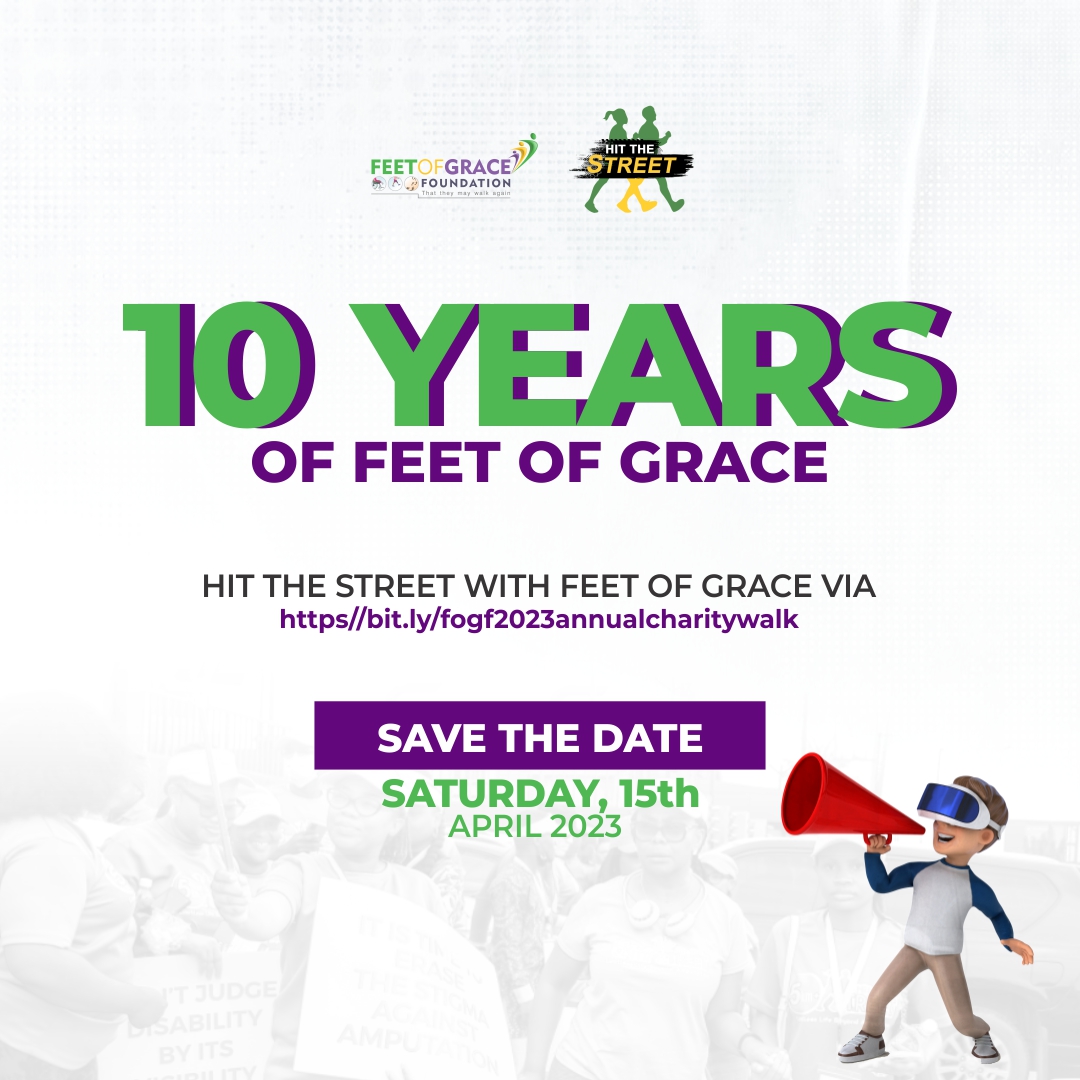 I cannot find words adequate enough to express the gratitude overflowing in my heart for the opportunity God gave me to live ten years beyond bilateral lung transplantation. If I have ten thousand tongues, they still will not be enough to thank God for the second chance He gave me to live for a purpose higher than me.
In the early hours of Sunday, April 14th, 2013, I received the precious gift of a pair of healthy lungs from an unknown benefactor that has kept me alive till today after 20 years of chronic respiratory and debilitating neuromuscular diseases. But not after some more hairpin twists in my story, including five weeks in a coma and bilateral mid-leg amputation.
Ten Years of Feet of Grace
My legs were amputated below the knees on Friday, May 31st, 2013, and in mid-life, I became a double amputee. The idea to start a Foundation that will provide prosthetic rehabilitation services to amputees who can never afford the exorbitant costs of these services was conceived while I was learning to walk again with my artificial legs.
What is "Feet of Grace"?
That was my first question when my husband shared that message with me in May 2013. It was just over a week after I woke up from the medically induced coma, and my doctors told me both my hands and feet had to be amputated to preserve my life.
I am grateful to everyone who has journeyed with me for almost ten years of walking with my prosthetic legs, called the Feet of Grace. By the way, I have used three pairs in 10 years. I currently have two pairs, serving different purposes depending on the height of the shoes I am wearing, how far I need to walk or how long I need to stand.
Thank you very much for the memories we have created together since I got my first pair of Feet of Grace at the end of July 2013, two months after my legs were amputated below the knees. Thank you for walking with me since April 2015, when we began to walk so other amputees can walk again.
It is time to make new memories together. I want this 10th year as a lung transplant survivor and bilateral amputee to be impactful, bringing smiles to the faces of amputees who will never be able to afford the exorbitant cost of prosthetic rehabilitation.
My heart's desire is to use this opportunity to honour the memory of my unknown benefactor who died on the 13th of April, 2013 and donated the lungs expanding in my chest today.
Ten for Ten. What Can You Do?
Let's do the Annual Feet of Grace Charity Walk in ten countries and ten cities in Nigeria this year starting from Saturday, April 15th, 2023.
Walk for 10km in your city and identify ten friends who can sponsor your walk by donating to the Foundation.
Find Ten friends to walk with you in your city. Walk together for as long as you can and create awareness about the need for a society comfortable with amputees.
Walk whatever you can and identify ten friends to sponsor your walk by donating to the Foundation.
Take ten golden yellow balloons and release them in memory of my Unknown Benefactor. You can order the personalised Ten for Ten Balloons from the Feet of Grace Foundation.
Please ensure you and your friends buy the T-Shirts to wear for your walk. Of course, we would like you to take pictures and share them on your social media, tagging Feet of Grace Foundation and using the hashtags #tenyearsoffeetofgrace and #feetofgracetenforten.
Kindly order your T-Shirts using the link below.
https://bit.ly/fogf2023annualcharitywalk
Please find below details of options for donations.
GoFundMe:
Bank Transfers are possible to both Swiss and Nigerian Accounts.
Feet of Grace Foundation
United Bank of Africa, Nigeria
Account Numbers: 1019430471 (Naira) 3002100149 (USD)
Sort Code: 033190424. Swift Code: UNAFNGLA.
FEET OF GRACE
PostFinance Switzerland.
15-72360-1
CH59 0900 0000 1507 2360 1
POFICHBEXXX
I invite you to celebrate with me Ten Years of Feet of Grace and Ten Years of living purposefully beyond lungs transplant and bilateral amputation.
With best wishes
Dr Irene Titilola Olumese
Executive Director
Feet of Grace Foundation