Mrs. Bidemi Mark-Mordi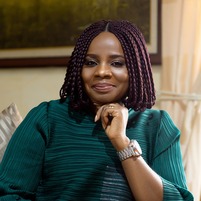 Mrs. Bidemi Mark-Mordi is a dynamic business leader and CEO of Verbatim Communications Limited. With over 20 years of extensive experience in leadership and values-based people development, she is a multi-talented Life Coach, Speaker, Writer, Publisher, and Author.
Bidemi's passion is to make life better for everyone she comes in contact with, whether individually or corporately. She offers regular workshops, seminars, keynote speeches, and coaching services to promote personal and professional growth through practical application of leadership principles.
As a member of the John C. Maxwell Founder's Circle Coaching team and as a Trainer, Bidemi's training and exposure in Leadership and coaching continue to position her as a beacon of hope and purposeful innovator wherever she has the opportunity to serve as well as deliver results.
Bidemi is also an international speaker and facilitator with the versatility and strong ability to think on her feet. She is an avid reader and prolific writer, having authored about 12 books and counting. She is particularly passionate about women's development and has created several opportunities for women to learn and network in pursuit of their goals.
Bidemi's online community of thousands of active followers attests to her consistency in offering life success trainings daily. Her vision for life is to inspire and motivate people to stretch beyond their limits, and she firmly believes that "the human spirit is like an elastic band; the greater the stretch, the greater your capacity."