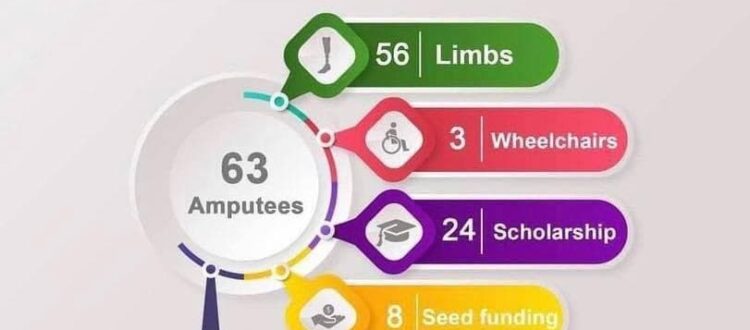 Making a difference one amputee at a time is what we desire to do at the feet of grace foundation, we walk so that amputees can walk again because we believe that missing limbs should not be a limitation to living a full and functional life.
The Foundation is very grateful to the hundreds of individuals, several corporate and institutional donors, and partners who have contributed to the achievements by year:
2015:
Friends of Feet of Grace Foundation walked twice in Geneva in April and November. Harambee4Africa organized the second Charity Walk. Three amputees received three limbs by the end of the year. This sparked many more years of us getting out there making a difference one amputee at a time.
2016:
The second edition of the Annual Charity Walk Hit The Street Charity Walk took place on April 30th 2016, the second edition in Nine cities around the world, namely Geneva and Zurich, Switzerland; Abuja Nigeria; Leeds, Kent and Surrey, UK; and Claremont and Rancho Cucamonga, California and State College, Pennsylvania, USA.
Six amputees received four limbs and two wheelchairs. Two children received scholarships from our partner, the Rehoboth Dream Solid Foundation, to enable them to access good quality education. Two women received seed funds for poverty alleviation activities.
We lost one of our 2015 beneficiaries. Olivet succumbed to further complications of diabetes mellitus. We later discovered that she could not afford her medications. This development informed the decision to assist the beneficiaries with activities that could alleviate poverty.
2017:
We held the Annual Feet of Grace Foundation Charity Walk to make a difference on Saturday, April 29th, 2017 in Geneva Switzerland, Nairobi Kenya, Kampala Uganda, Abuja and Ibadan in Nigeria, Kent UK, and Lafayette Louisiana and Garnet Park Maryland in the USA.
Other cities held the Walk until June 25th. We gave them the liberty to fix the Charity Walk for a time most convenient for the participants. These included Surry UK, Zurich Switzerland, Claremont, and Rancho Cucamonga in the USA. The Charity Walk took place in 13 cities in 2017 compared to the seven cities in 2016.
Eleven beneficiaries received thirteen limbs because one of them is a bilateral amputee who required two limbs. Two children amputees continued to enjoy scholarships to keep them in school.
2018:
In 2018, the Foundation carried out an extensive social media campaign with the hashtag #10Amputees1Dream, which increased the numbers of followers on social media and first-time donors. Also, there was a significant increase in requests for support coming through the social media handles.
A Charity Bazaar was held in Geneva in March 2018 in preparation for the Charity Walk. We sold items donated by Friends of the Foundation at the Bazaar. We organized the Feet of Grace Charity Walk tagged "2018 Hit The Street" to flag off our fundraising efforts for the year starting from Saturday, April 14th, 2018. The Charity Walk was held in 11 cities in Nigeria, Switzerland, the United Kingdom, the United States of America, Senegal, Kenya, and Ghana.
Eleven prosthetic limbs were given to the ten amputees supported. Five children amputees received scholarships to continue their education.
2019:
The Foundation celebrated its 5th Annual Feet of Grace Charity Walk and five years of operation on Saturday, April 12th, 2019 in Geneva, Switzerland. The participants released golden yellow helium-filled balloons in the air to honour the memory of the Unknown Benefactor and organ donor. Without the donation of these lungs, there would not have been the Feet of Grace Foundation.
In June 2019, the Foundation organized a Donor Appreciation Event in Lagos to honour and appreciate partners and donors who have supported the Foundation in specific ways. They were designated as Feet of Grace Ambassadors and different categories of Special Friends of the Foundation. The event allowed us to recognize those who have gone the extra mile to coordinate the Charity Walk in various cities to mobilize funds for the Foundation, and the institutional, consistent and regular donors. We also recognized partners who helped the Foundation to get its work done.
Nineteen cities participated in the 5th Annual Feet of Grace Foundation Charity Walk, including four new cities: Grenoble France, Kumasi Ghana, Maryland USA and Zaria Nigeria.
Participants at the Wholesome Women Conference in Ontario, Canada in July 2019 donated to the Foundation's work. The Executive Director shared her testimony and the Foundation's mission and achievements at the conference.
The Foundation had the opportunity to reach a broader community during the College of Medicine (UI) Class of 86 Reunion held in August in Maryland USA to mobilize the Foundation's work. Interested participants walked to raise funds for the Foundation's work during the programme.
Four friends of the Foundation elected to make the fundraising for the Foundation the focus of their birthday celebrations:
• Babafunke Fagbemi at 50
• Mrs Ngozi Okonkwo of Keeping Marriage Alive
• Dr Iyabo Adeyefa at 60
• The October 1st Birthday Twins at 53 (Yinka Ogunnaike and Irene Olumese).
Other special fundraising activities which the Foundation benefited from included the 1000 miles cycling by Dr Akintunde Akinkunmi to mark his retirement after 30 years of service in the British Army and the 75th Anniversary of the D-Day landing. Dr Akinkunmi cycled from Normandy in France to Berlin to raise funds for some Charities. The Feet of Grace Foundation was one of the NGOs that benefited from the funds he raised.
There was also an increase in the number of donors in 2019. Two institutional donors, four NGOs, four churches and over 500 individual donors contributed to this amount.
In January 2019, we selected 12 amputees out of 20 applications for the support received in 2018. Eight amputees completed the process of prosthetic rehabilitation with nine limbs delivered by the end of 2019 (one of them is a bilateral amputee). Three are in varying completion stages with four legs provided at the end of the process (including one bilateral amputee).
The Foundation facilitated the repairs and maintenance of the limbs for three precious beneficiaries. There are four more awaiting repairs.
With the support of our partners, the Rehoboth Dream Solid Foundation, a total of six amputees are on scholarship to facilitate their education with two new amputees added to the four already being supported by RDSF. One amputee received support to assist with her accommodation when she got admission into a polytechnic.
2020:
We began 2020 with lofty plans to extend the Charity Walk to more cities and provide prosthetic limbs for 15 amputees. The screening exercise was successfully held in January in Lagos. We began to plan in earnest for the Charity Walk. But with COVID lockdown and it's attending restrictions, we could not gather in large groups for the 2020 Charity Walk; Hit The Street. We got innovative. We asked our friends to put on their 2020 HIT T-Shirts, walk within their neighbourhoods alone or in twos and share their pictures on their social media handles. They did a great job and created a buzz on behalf of the 2020 potential Beneficiaries.
Against the odds and challenges of the year, the Foundation provided eleven prosthetic limbs and one wheelchair to eleven beneficiaries. One of them is a bilateral amputee requiring two limbs. Five of the beneficiaries are children who needed replacements for their outgrown and worn-out limbs. One of the children had corrective surgery to straighten her remaining leg.
The Foundation facilitated the repairs of limbs for five other amputees. Five women received seed funds to start or expand small scale businesses to alleviate poverty.
Five children received scholarships from our partners, the Rehoboth Dream Solid Foundation to in-class tutoring. Two ladies received support for their tertiary education.
Corporate Donors
1. Grooming Center for Better Livelihood, Lagos Nigeria
2. Falcon Corporation Limited. Lagos Nigeria
3. Center for Integrated Health Programs (CHIP), Abuja.
4. Jethro-Forth Continental Limited, Ibadan, Nigeria
Institutional Donors (Churches and NGOs)
1. Church for the Nations, Geneva, Switzerland
2. Church of the Living Saviour Geneva Switzerland
3. Nigerians In Switzerland
4. Emmanuel Church, Geneva Switzerland
5. Praise Sanctuary RCCG, Zurich
6. Mercy Household
7. Change Agentz, Lagos, Nigeria
8. Geneva Amateur Operatic Society, Geneva Switzerland
9. The Redeemed Christian Church, River of Life, Maryland, USA
10. The Redemption House. Aurora, Ontario, Canada
11. The RCCG Jesus Embassy. Los Angeles, USA
12. The RCCG Jesus House, Chicago, USA
13. The RCCG Joyful Assembly, Joliet, IL, USA
14. City of David RCCG, Crawford, UK
15. Shola Adefolalu Gaska Foundation, Lagos Nigeria
16. Mothers Club International
Partners
1. The Irede Foundation
2. Rehoboth Dream Solid Foundation, Lagos Nigeria
3. A Sister In The World
Walk Coordinators:
1. Feet of Grace Association Geneva Switzerland
2. Stella Ekogbulu, Zurich, Switzerland
3. Babafunke Fagbemi, Abuja, Nigeria
4. Akindotun Merino, Rancho Cucamonga, CA, USA
5. Veronica Adoun, Lafayette Louisiana, USA
6. Omolade Apio, Wallington UK
7. Yinka Ogunyinka, Kent UK
8. Elizabeth Juma, Nairobi Kenya
9. Joyce Bruce, Accra/Kumasi Ghana
10. Liz Ahua, Dakar, Senegal
11. Funmi Onamusi, Surrey UK
12. Ladies Steps, Erith UK
13. Brenda Okech, Kampala Uganda
14. Bidemi Mark-Mordi, Lagos Nigeria
15. Margaret Popoola, Zaria, Nigeria
16. Mikhail Tokunbo, Leeds UK
17. Osemudiamen Olumese, State College USA
18. Ehimenmen Olumese, Claremont, CA, USA
Thank you for your interest in the Feet of Grace Foundation and we hope that you will join us in making a difference one amputee at a time.