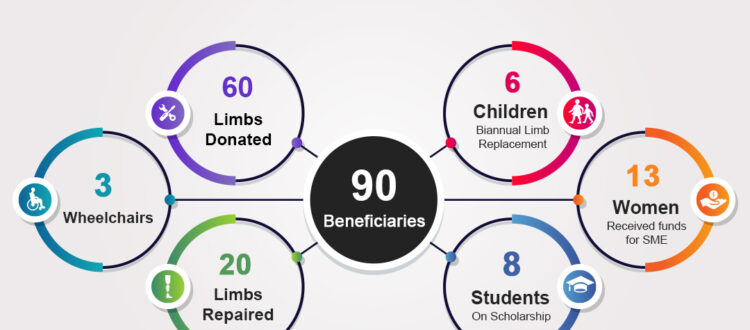 The Feet of Grace Foundation has moved beyond the provision of limbs and wheelchairs, which was the primary direction at inception in 2015, to a Limb Plus More Approach.
Evidence shows that persons with disabilities are at greater risk of poverty than persons without disabilities in developed and developing countries. The gap is more expansive in developing countries, especially in poor communities.
UNICEF estimated 93 million children worldwide live with disabilities. Like all children, children with disabilities have ambitions and dreams for their futures. Like all children, they need quality education to develop their skills and realize their full potential. Yet, children with disabilities are among the most likely to be out of school. They face persistent barriers to education stemming from discrimination, stigma, and the systematic failure of decision-makers to incorporate disability in school services. The case is worse for the female amputees who do not have disability-friendly toilet facilities in school and may have to stay out of school during their menstrual periods.
Research also shows that Persons with Disabilities have lower employment rates than the rest of the population, regardless of their qualification level.
Beyond the provision of prosthetic rehabilitation services and advocacy, the Feet of Grace Foundation has been raising funds to provide educational scholarships to ensure that children and young adults with missing limbs can have the opportunity of good quality education in an environment that is conducive for their development as persons with disabilities.
We found that giving the prostheses was insufficient. Many of the female amputees are willing to earn an income and contribute to the family income. They want to set up small-scale businesses but lack the funds required to start the business. A woman who lost her source of livelihood because of the amputation needs more than a limb. Because if she cannot afford her medications, she could die from the complications of the underlying medical condition. A female child who lost her limb is more likely to drop out of school, which further complicates the outcome for the girl-child. During the COVID lockdown, many beneficiaries experienced difficulties in feeding themselves.
Over 90 beneficiaries have benefited from the LIMB Plus More Approach. The Feet of Grace Foundation has provided 60 prosthetic limbs and three wheelchairs to amputees. Eight students are currently on scholarship, ensuring that they get a good quality education; this includes two young ladies in higher institutions. Six children have had their limbs changed two to three times as they outgrow their prosthetic limbs. Thirteen women amputees have received seed funds to start small businesses, enabling them to contribute to the family income. The women are currently receiving training in Soft Skills such as Goal Setting, Getting Things Done, Assertiveness and Self-Confidence.
When empowered to contribute to the family income, female amputees bring healthy food closer to the family and ultimately to the economy of their communities and society. These women are making a significant contribution to the living standards of their households and will go further to contribute to their community and broader society.
Feet of Grace Foundation has come this far because of the generous donation and support of our dedicated and consistent friends and donors. Because of you, we are restoring smiles to the faces of amputees and making a difference one amputee at a time. Thank you very much.
Do consider following the Foundation social media handles for regular updates about the activities of the Foundation and the progress we are making, restoring hope to amputees.
To donate, kindly see available options for donation below:
FEET OF GRACE FOUNDATION
UNITED BANK OF AFRICA, IBADAN, NIGERIA
1019430471.
FEET OF GRACE
PostFinance Switzerland.
15-72360-1
CH59 0900 0000 1507 2360 1
POFICHBEXXX
Pay link
https://www.paylink.ng/feetofgracefoundation
GoFundMe:
https://bit.ly/2K4raDz
Together, we will go further. Thank you so much for your support.