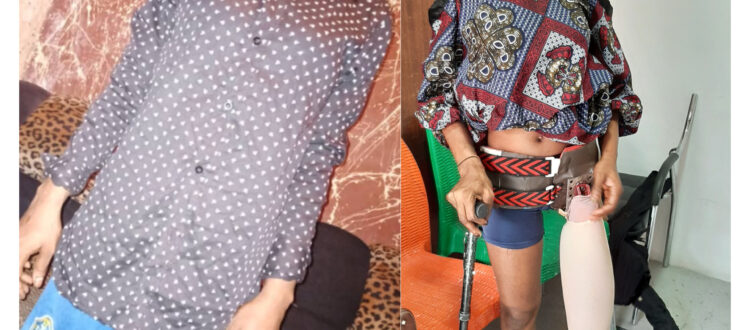 Donation Goal For This Project is
$2,700
Donate Now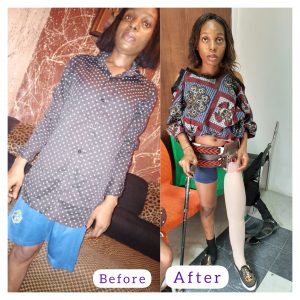 Lizzy was 25 years old when she was hit by a car on her way to work at Expression Weave-on Factory on June 13th, 2016. She was initially taken to the hospital by those at the scene where she was treated. The doctors recommended a rod implant in her leg to stabilize the fractured bone and enable it to heal. But her parents could not afford the cost of the surgery, so they chose the seemingly cheaper option. They took her to the Traditional Bone Setter (TBS). By the time the TBS realized the treatment required was beyond his skills, it was too late. The fracture had been mismanaged. Lizzy was taken back to the hospital, where the leg had to be amputated. The inadvertent cost of the delay was that most of the leg had to go leaving Lizzy with a tiny stump.
Lizzy's story is another clear case of mismanagement of a limb fracture resulting in an amputation that could have been avoided. This situation highlights the urgent need for awareness creation. Her leg could have been saved if her parents knew the consequences of mismanaged fracture.
Lizzy received a prosthetic limb in 2017, which improved her autonomy and self-esteem. Unable to continue with her education as she desired, Lizzy began doing hairdressing in her sitting room. She received a seed fund from the Foundation in 2020 to set up her hairdressing salon.
Her limb is in urgent need of replacement to enable her to walk without pain and discomfort.
She has finally replaced her limb with a new Prosthetic limb, enrolled in entrepreneurial training, and was also given 100,000 as seed fund for her to start her business again and be independent.